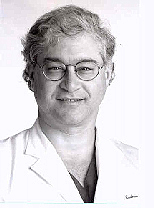 I was born in New York City in 1945, and have lived in San Francisco since 1974; Iím still trying to become a native. My interest in photography dates to the early 1960's,when I made photographs with my brother, Adam. Later, in the 1990's, my attraction to computers and aversion to chemicals led to a natural transition to digital photography.

I enjoy photographing a wide range of subjects, from people to architecture; travel photography has always intrigued me. Sometimes a sequence of photos will tell a story. If there is an "artistic" theme to my pictures, I suppose it is a fascination with composition and line. However, color and painterly-effect have become important elements for me.

My earlier pictures were originally taken with an analog camera and film, and, later, digitally scanned. Since the 1990s the pictures are fully digital, from the click of the shutter to the final print. I print all of the pictures digitally, usually 16-18" x 22-24" size, with archival inks and paper, and make no apologies for digital editing or manipulation. Nevertheless, the photographs are, in fact, largely what they appear to be.

The above notwithstanding, I havenít given up my day job. I graduated with a degree in Classics from NYU, and attended the Albert Einstein College of Medicine, in New York. I have practiced cardiology in San Francisco since 1976, after completing my fellowship at what used to be called Pacific Presbyterian Medical Center.

I still practice cardiology at California Pacific Medical Center, and am the Program Director Emeritus of the Cardiology Fellowship Training Program, Director of the Echocardiography Laboratory, Director of the Adult Congenital Disdease Clinic, and a Clinical Professor of Medicine at UCSF.

I continue to juggle many interests, but few are as consistently rewarding as photography.